Sample Electrical Infrastructure Projects
---
California Polytechnic State University, San Luis Obispo- Pier Electrical Service Replacement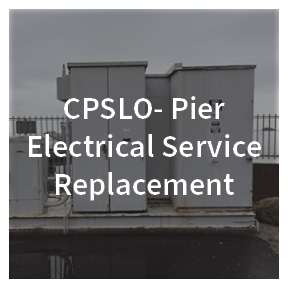 PROJECT FEATURES
This project replaced an existing, rusted-out substation and installed a new underground 12KV electrical distribution system.
SERVICES
Goss was the electrical engineer-of-record.
VOLTAGES
12.47 V, 480/277 V, 240/120 V
OWNER
California Polytechnic State University, San Luis Obispo
DESCRIPTION
Goss Engineering was the electrical engineer-of-record for the demolition of an existing, rusted-out electrical substation and associated electrical infrastructure back to a PG&E high-voltage utility vault. The existing service fed a 112.5 kVA transformer and a 300 kVA that each stepped down to 480Y/277 volts.
The new substation includes a PG&E metering section, 600A gasless stainless steel VFI protected selector switch by Eaton, 12.47 kV – 480 V/277 V 45 KVA transformer, and 400 A 480 V/277 V distribution board. The new electrical wiring is underground, on the shoreline and a new 300-foot 12.47 KV feeder was installed from the shoreline to the pier's existing 300 KVA 480-volt transformer.
This new infrastructure serves some of the shoreline, some of the pier, and some offshore electrical power.
---
The project is currently ongoing.