University of California, Santa Cruz- Cooling Tower 2 Replacement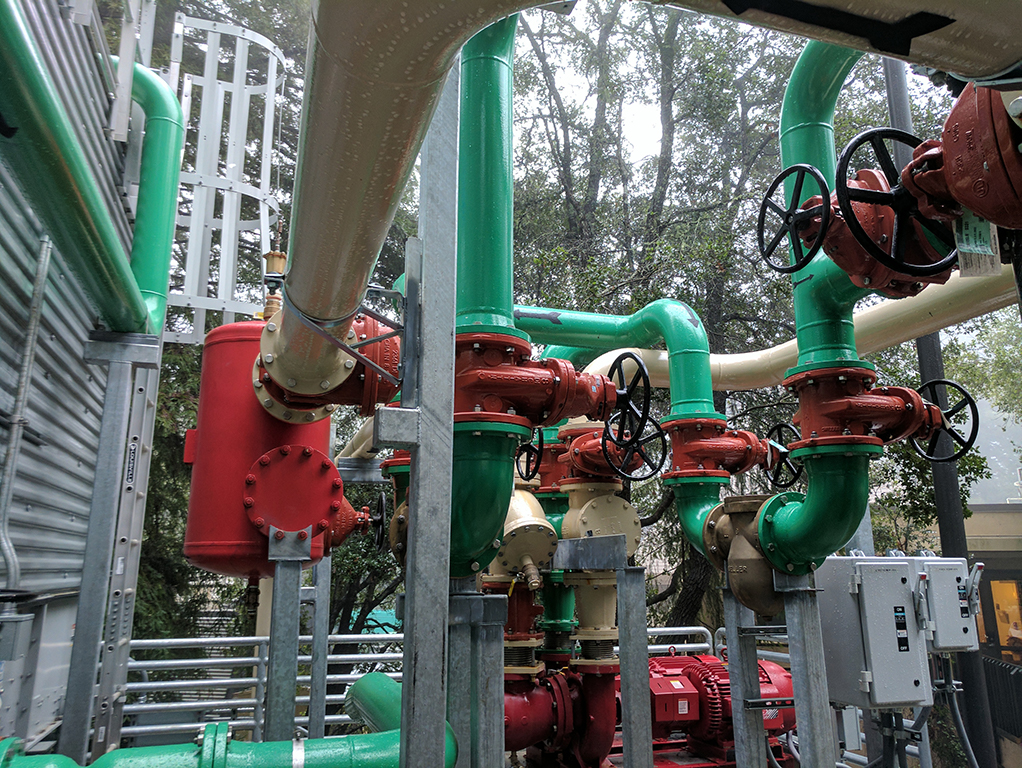 PROJECT FEATURES
Replaced failed cooling tower and associated equipment to provide greater capacity at a higher efficiency in the same footprint.
SERVICES
Goss was the mechanical and electrical engineer-of-record. Goss also served as the prime consultant, overseeing design by a structural sub-consultant.
EQUIPMENT
Cooling tower, plate-and-frame heat exchangers, 2 pumps, centrifugal separator, air separator, chemical treatment system and containment shed, and basket strainers.
OWNER
University of California, Santa Cruz
DESCRIPTION
Goss was the mechanical and electrical engineer-of-record for the demolition of an existing cooling tower and associated equipment, and replacement with new. Leading into the design, the owner was most concerned with functionality and serviceability, being that the installation is open to a forest, and the system had been susceptible to entraining Redwood duff, which reduced equipment performance and reduced service life.
In meeting with the owner to identify these challenges, Goss identified improvement opportunities beyond a simple like-kind replacement that would reduce the maintenance burden. Knowing these additional features would impact the budget, Goss designed each of these individual opportunities as a standalone bid alternative, allowing the owner to identify the best solutions they could include given the limited budget. Ultimately, the project added a 9,000-MBH (600 cooling tower tons) induced draft cross-flow cooling tower, end-suction pump, centrifugal separator, fully redundant basket strainers, and chemical treatment system were added on the open-loop. A new plate-and-frame heat exchanger separates the open and closed loops, and a new end-suction pump and air separator were added to the closed-loop.
The new Cooling Tower 2 installation is the most efficient on campus and is now the lead tower serving the north campus. Altogether, Goss estimated this project to save the owner about 50,000 kWh annually, worth over $12,000.

---